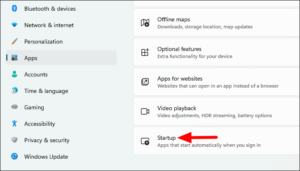 Disabling High and Medium rated apps from the startup list can speed up your computer. You can disable them manually or using free software. Using this method, you will have more control over your system. You can also delete apps that are no longer needed. Afterwards, your PC will run faster and your battery life will last longer.
Free software to disable startup apps
Disabling startup applications is one of the most common system tweaks. It's easy to do through the Windows Task Manager and the Startup tab. If you're looking for advanced features, you can use an advanced program that will display a list of startup items and allow you to disable them one by one.
Depending on your needs, you may have multiple applications running at startup. Some are necessary and other are not. You can disable these programs to make your system faster. Google Chrome, for example, is a popular web browser that few people need to run at startup. Microsoft Teams, an online communications program that lets you chat with team members, is also an example of an app that should not run at startup. Disabling this app will allow you to manually open it when you need to communicate with your team.
Another option is to use a program called Startup Delayer. It lets you control which programs start at startup and allows you to add new apps and services. Startup Delayer has a separate tab for system services, so you can view and disable them as needed. Another option is to schedule certain programs to run at certain times.
You can also disable startup apps in the Windows Task Manager. Windows 10 users should access the Task Manager from the taskbar, which is accessible by clicking right on an empty space.
Speed up your system by disabling High and Medium rated apps
If your system is slowing down when it boots up, you may want to consider disabling High and Medium rated startup applications. These apps have the highest impact on the startup process, so removing them may speed up your system. However, you should be aware that you should not remove critical apps from the startup list. These apps include antivirus software and audio device software.
To see which startup programs take up the most time, go to Control Panel > Startup. Scroll down and look for a column labeled "Startup Impact." If it's a low impact program, it should take up the least time. Medium impact programs, on the other hand, will take the most time. Select the ones that you want to disable and then click on the disable button.
Next, look at the apps on the startup. If they are consuming large amounts of RAM, you can disable them. Similarly, if you are using an older computer, turn off those that take up the most memory. This will speed up your PC's startup time.
Safe way to disable startup apps
If you have an app that continuously starts up and uses system resources, you may want to disable it from startup. Using a tool such as Windows Task Manager, you can see which apps are starting up automatically, and you can disable them if you no longer need them. You can also find out more information about each program by checking its Startup Impact status.
In the Task Manager, click the Startup tab. From there, you can see all programs and apps that run during startup. To disable these programs, you need to click on the Disable button next to them. You can also right-click on any program and disable it. If you want to remove an app completely, use a method known as "CleanUp."
Another method of disabling startup applications is to disable them by using the System Configuration utility. However, make sure not to disable any essential Windows processes as this may damage your computer. For Mac users, the Apple icon in the top-left corner of the screen opens up a window called "Users & Groups." In the System Preferences window, click "Login Items" and select "Startup Items." Here, you can disable or add programs to the startup list.
Fortunately, Windows offers several options for safely disabling startup apps. These options include the Task Manager, the Startup folder, and the Registry. These methods can all be used to disable or delete startup apps.