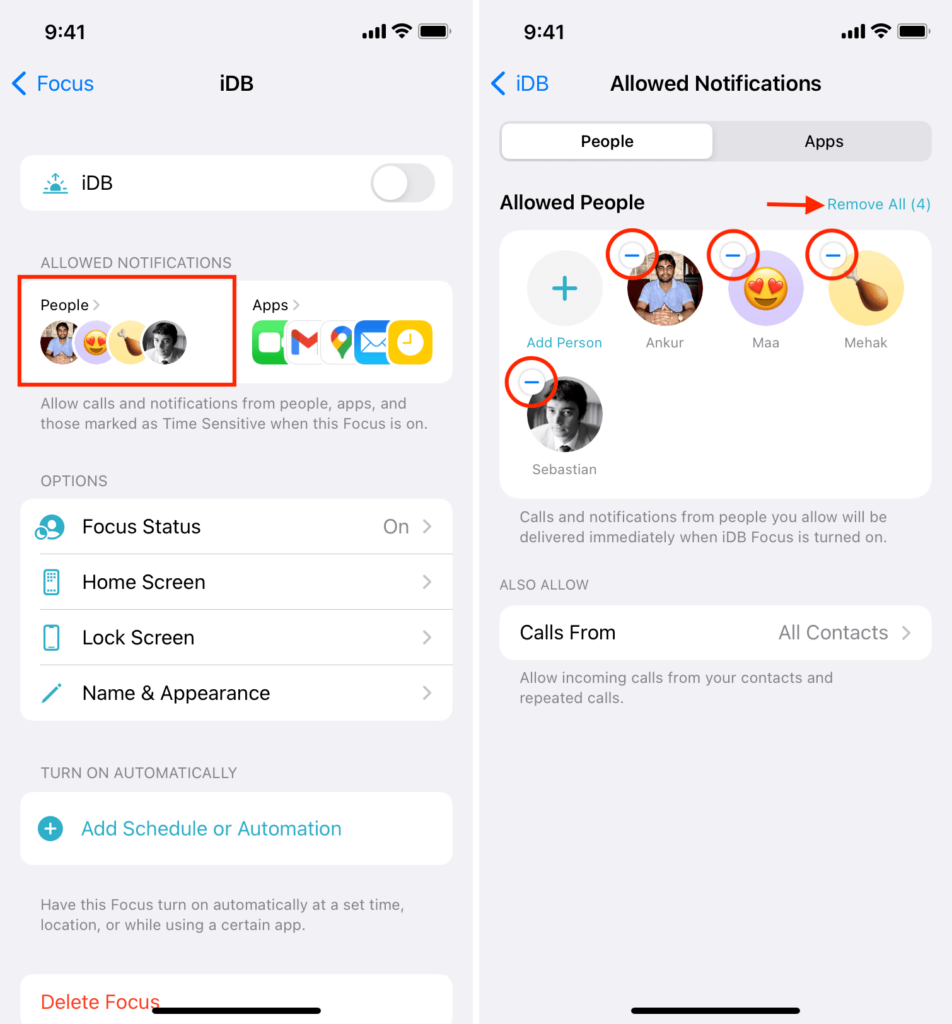 Disable focus on your iPhone is possible. If you are frustrated with notifications and have no idea what to do, this article will show you how to change your Focus settings. Learn how to customize your Focus, hide your Focus status from other people, and delete it. Follow these simple steps and you will be free from the annoying focus on your phone. Then, you will be able to enjoy all of the features of your iPhone without all the noise and interruptions.
Read more about: How to Disable Camera on iPhone
Customize your Focus
Customize your Focus on iPhone by enabling or disabling the settings. To enable Focus mode, you can select which apps should be allowed to send you notifications and what type of notifications you want to receive. You can also choose to set Focus to show on the lock screen or dim it if you prefer. Focus can also be turned on or off in the Control Center and can be scheduled to turn on automatically when the user is away from the device.
Learn more: How to Disable Life360 on Your iPhone
To turn Focus on and off automatically, you can create automations that trigger it based on certain activities. You can even choose when Focus is active based on time, location, or apps that you've opened. Apple's Smart Activation feature learns your habits and can turn it on automatically when it senses a situation. Once you've created your Automation, you can then set the time you want Focus to be enabled or off. Customize your Focus mode by determining what apps receive notifications, whether they can call you, and much more.
Also read: How to Disable Sleep Mode on iPhone
Schedule a Focus
You can schedule a focus for your iPhone to automatically turn on when you want to use it. You can set it for an hour, until the end of the day, or until you leave your work location. You can also schedule a focus for an app or location. You can schedule a focus for your iPhone to be turned on automatically by going to Settings > Focus and choosing the "Turn On Automatically" option.
You can also schedule a focus to automatically activate when you enter a certain location, use specific apps, or use a specific time. This way, you won't have to manually set the time for Focus to activate. And if you do forget to set a time, you can always schedule it for another day. But if you want to set it for every day, you can also create a custom focus, which is similar to the default one.
You can also read: How to Disable Auto Update iPhone
Hide your Focus status from others
If you've ever wanted to hide your Focus status from others on your iPhone, it is easy to do. The feature is available in the Messages app, but only on selected contacts. Open up a chat with the person you want to silence, and toggle the Share Focus status switch off. Then, choose the option to notify others anyway. You can share your Focus status selectively with select contacts. This method will ensure that your private conversations with important contacts remain private.
If you want to hide your Focus status from others on iPhone, you need to tap the settings menu and turn on sharing for that contact. This option is available under the Focus Status menu. By default, sharing stays on, so you should disable it for those contacts that don't want to be distracted by it. However, if you're the type of person who values your personal time, you may want to turn off sharing for specific contacts to protect yourself from annoying people.
You can learn more: How to Disable Driving Mode on iPhone
Delete a Focus
You can delete a Focus from your iPhone or iPad by disabling it. To do so, open the Settings app and select the Spotlight screen. Next, tap the Focus option and select Delete to delete the Focus. Once deleted, you can't turn Focus on again. This will not affect your other devices that are connected to the same iCloud account. You can, however, disable syncing from the Settings app.
Also read about: How to Disable Voicemail on iPhone Xs
If you use Apple Focus on your iPhone or iPad, you will notice that it integrates across all your devices. You can also enable 'Share Across Devices' by going to the Focus settings and selecting 'Share Across Devices'. Turning off 'Share Across Devices' will prevent your Focus from sharing your current status with other apps. To delete a Focus, simply confirm the process with your Apple ID.